---
To All Club Members:
There is also a proposed By-laws amendment that will be voted upon at the September 14 th General Meeting.

As stated in the RSCC Bylaws, Article VI, Section V:
"These By-Laws may be amended at a regular meeting by a two thirds (2/3) majority vote of the voting members present. All members must be notified that a by-law amendment is proposed at least fifteen (15) days prior to the election."
Any questions regarding this upcoming vote may be directed to Our new Current President Tina Johnson.
---
Welcome
Our new President
Tina Johnson
And New Secretary
Jenna Taylor
---
Donation from the June "Two Seat Car Show". Kathy Sobilo and Lorna McLeod of Making Headway receive a $700 donation from Loren Fisher of the Redwood Sports Car Club and Doug Milota of the Humboldt British Car Group, thanks to our many sponsors and over 60 entrants! This years Best of Show was Ray Lacy with his 1957 Triumph TR-3.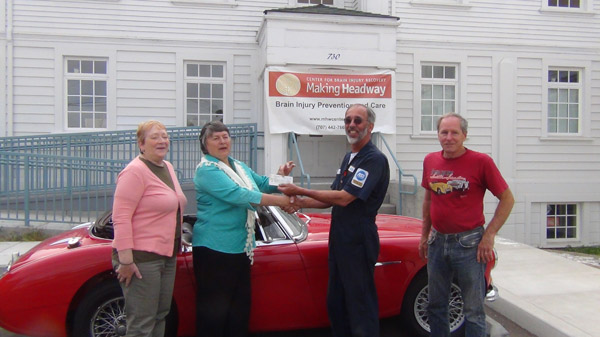 ---
A great article giving the Hoopa Hillclimb some publicity
Thanks Rob Krider
Be Sure to check it out
Click Here
---
Speed Trap Times from check point ten also posted.
Thanks Brenda Brock and Crew :-)
---
Hoopa 2015 Times
---
Results from this years points events
---
Here is a Great Article
with some really good information
on Autocrossing
Thanks Oliver
---
The Official dates for 2015
January 17th & 18th -- Non Points

February 21th & 22th -- Non Points

March 14th & 15h -- Non Points

April 12th -- Non Points

May 23th & 24th -- Points Event -- 1&2

June 13th -- Two Seat Car show

June 6th & 7th -- Points Event -- 3&4

Hoopa Work Day July 18th

July 23rd - 26th -- Hoopa Hillclimb?

August 15th & 16th -- Points Event -- 5&6

September 19th & 20st -- Points Event -- 7&8

October 17th & 18th -- Points Event -- 9&10

November 21st Awards Banquet
Only your top 8 events are counted towards
your final points for year end trophies. And
you must be a member to be eligible
---
Autocross Prices
$10 for 1st time drivers. (First Event Only)
$15 for RSCC club members.
$20 for non members.
$5 off the the non members price
for other autocross club members.
---
Start Times
Gates open at
8:30 a.m.
Registration will be
8:45 - 9:20
Tech Inspection is
8:45 - 9:45
Course open for walking: 8:45 am to 9:55 am
Mandatory Driver's Meeting: 10:00 am
First Car on Track: Soon After Driver's Meeting. Do not be late!!!
If your late to registration you may not get to run.
If you miss the drivers meeting it's a sure thing that you won't be running!!!
Hope to see you there!
Also note...
If you come to run then be prepared to also work the course,
it takes workers to make this all possible and Everyone is expected to help. If we don't have course workers we can't run... So plan on spending the whole day if you are coming to play.
---