---
Here we go again... I'm going to try and have the live timing available again this year. Click the above link to see the up to the minute results once the event has started.
Note... These results are unofficial..
Keeping my fingers crossed that it all works again this year...
Also the current PIT #'s are available for viewing there as well.
---
2015 Hoopa Hillclimb
Registration forms are now available to download
And Online is open at Midnight
06/18/2015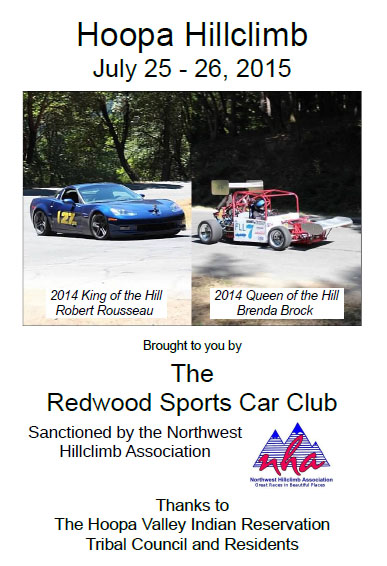 Or
So the online form seems to be going well there has been 21 entries in 30 hours and you can see who has entered so far by going here
Also you can look and see if the car number that you are going to use is available before you try and signup. And you can also confirm the number that you did sign up for was accepted. This may make things easier for all of us.
---
Results from this years points events
---
2014 Hoopa Hillclimb photos.
Click here to view them on ShutterFly.
---
2014 Hoopa Results
---
Here is a Great Article
with some really good information
on Autocrossing
Thanks Oliver
---
The Official dates for 2015
January 17th & 18th -- Non Points

February 21th & 22th -- Non Points

March 14th & 15h -- Non Points

April 12th -- Non Points

May 23th & 24th -- Points Event -- 1&2

June 13th -- Two Seat Car show

June 6th & 7th -- Points Event -- 3&4

Hoopa Work Day July 18th

July 23rd - 26th -- Hoopa Hillclimb?

August 15th & 16th -- Points Event -- 5&6

September 19th & 20st -- Points Event -- 7&8

October 17th & 18th -- Points Event -- 9&10

November 21st Awards Banquet
Only your top 8 events are counted towards
your final points for year end trophies. And
you must be a member to be eligible
---
Autocross Prices
$10 for 1st time drivers. (First Event Only)
$15 for RSCC club members.
$20 for non members.
$5 off the the non members price
for other autocross club members.
---
Start Times
Gates open at
8:30 a.m.
Registration will be
8:45 - 9:20
Tech Inspection is
8:45 - 9:45
Course open for walking: 8:45 am to 9:55 am
Mandatory Driver's Meeting: 10:00 am
First Car on Track: Soon After Driver's Meeting. Do not be late!!!
If your late to registration you may not get to run.
If you miss the drivers meeting it's a sure thing that you won't be running!!!
Hope to see you there!
Also note...
If you come to run then be prepared to also work the course,
it takes workers to make this all possible and Everyone is expected to help. If we don't have course workers we can't run... So plan on spending the whole day if you are coming to play.
---