Please visit our
Sponsors,
and tell them that
you appreciate
their support.
Weather!
Now even better.
Check it out at the bottom of this page.
2016
Club Meetings
Schedules
Meetings are held at
7:00 P.M. in the
Meeting room at the
Tea Garden Cafe
1338 Myrtle Ave. Eureka, CA.
on the second Monday of the month.
---
The club was founded in 1956 and, ever since, has run events for car enthusiasts who enjoy the challenge of testing their driving skills in an amicably competitive yet safe environment.
RSCC hosts local autocrosses throughout the year. Autocrosses, are the purest and safest form of competitive driving. They are run on wide, open courses -- usually at Orvil Wilson Park, in Fairhaven. Courses are designed and are setup differently for every autocross using chalk and cone markers. Only one car is on course at one time. Drivers are timed as they negotiate the course to the best of their cars' and their own abilities. Speeds are low and wear on the cars is minimal.
Besides providing fun and the excitement of quick controlled driving, autocross teaches precision, cornering, braking, acceleration, distance judgment and other driving skills that make autocrossers safer and more responsible drivers on public roads.
---
---
a
---
Our next general meeting will be
March 13th at the Tea Garden Cafe.
Hope to see you there
---
New Meeting Location
We are now meeting at the Tea Garden Cafe for our general meetings the second Monday of the Month.
They are located at
1338 Myrtle ave. Eureka, Ca.
Our next meeting will be February 13th. Hope to see a bunch of your friendly faces there to help support our club this year.
---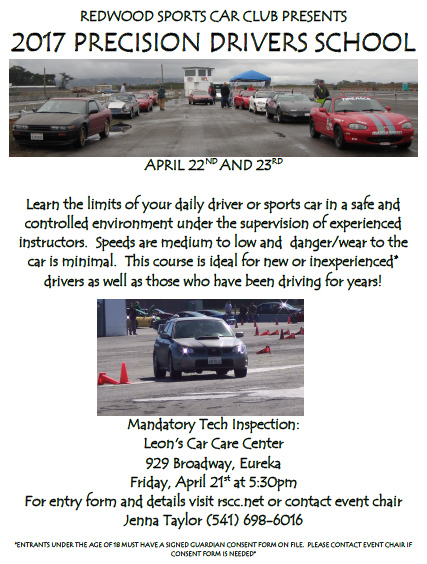 To Sign Up
Click Here For The Entry Form
---
Congratulations
2016 Class Winners
Thanks Oliver
---
Updated
12/20/16
The dates for 2017
January 21st & 22nd -- Non Points

February 25th & 26th -- Non Points

March 18th & 19th -- Non Points

April 22nd & 23rd -- Non Points

May 27th & 28th -- Points Event -- 1&2

June 11th -- Two Seat Car show
June -- 24th & 25th -- Points Event -- 3&4
July 21st -- 23rd Hoopa Hillclimb???

August 19th & 20th -- Points Event -- 5&6

September 16th & 17th -- Points Event -- 7&8

October 21st & 22nd -- Points Event -- 9&10

November Awards Banquet ???
Only your top 8 events are counted towards
your final points for year end trophies. And
you must be a member to be eligible.
---
Autocross Prices
$10 for 1st time drivers. (First Event Only)
$15 for RSCC club members.
$20 for non members.
$5 off the the non members price
for other autocross club members.
---
Start Times
Gates open at
8:30 a.m.
Registration will be
8:45 - 9:20
Tech Inspection is
8:45 - 9:45
Course open for walking: 8:45 am to 9:55 am
Mandatory Driver's Meeting: 10:00 am
First Car on Track: Soon After Driver's Meeting. Do not be late!!!
If your late to registration you may not get to run.
If you miss the drivers meeting it's a sure thing that you won't be running!!!
Hope to see you there!
Also note...
If you come to run then be prepared to also work the course,
it takes workers to make this all possible and Everyone is expected to help. If we don't have course workers we can't run... So plan on spending the whole day if you are coming to play.
---
Where we have our events.
---
Contact
President - Bill Stiles
(707) 499-6939
or the Webmaster at
dougpulver@rscc.net
---

---
Copyright © 2007 Redwood Sports Car Club. All rights reserved.